Peter, Paul & George
Peter Davis, Paul Rosenberg and George Wilson lead elementary and high school daytime workshops and residencies in traditional community dance and music, and play for family and community dance evenings. Their repertoire consists primarily of contra, square and international folk dances accompanied by lively reels, jigs, polkas and waltzes. Their music and dances transform even the most adamant, grimacing youngsters declaring "I will never dance" into smiling dance-lovers asking: "When is the next dance?"
Although they have worked as a trio since 1994, Peter and George have each been arts educators since the mid-1970's. Peter plays guitar, piano, banjo, clarinet, mandolin, pennywhistle and many other instruments. Paul plays recorder and teaches and calls dances from America and around the world. George plays fiddle, banjo, and guitar.
Peter, Paul & George have recorded two CD s – and written companion instruction books – called Peel the Banana and Dance the World Around, which present a sequence of dances from school residencies, family dances, and community celebrations.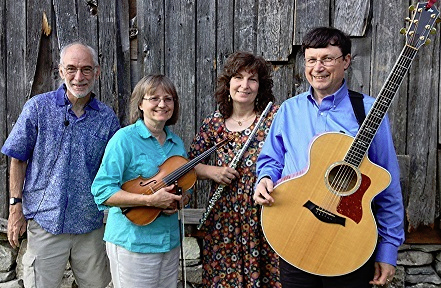 Tamarack Band
Tamarack brings the joyous touch of traditional fiddle tunes to any event, from background music at wedding receptions or public events, to the upbeat drive for barn dances, hoedowns and community dances. Foot tapping reels, lively jigs and smooth waltzes fill the trio's repertoire; traditional tunes that have been handed down through generations, with a few original works added to the mix.
Tamarack's members are: Jim Mead (guitar), Sue Mead (fiddle, mandolin, tenor banjo), and Patricia Kernan (flute, penny whistle, fiddle, light percussion).