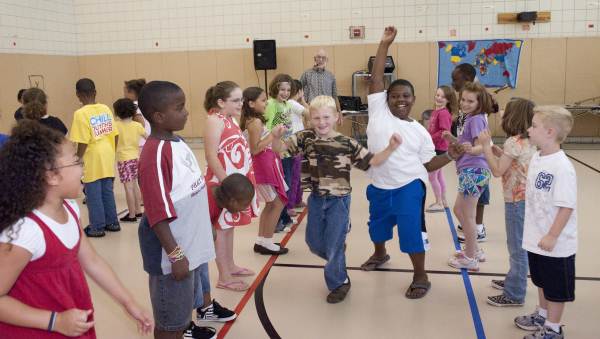 In-School Residencies with Peter, Paul and George
Our dance workshops are well-suited addendums for elementary school students and high-school language students interested in learning more about their chosen culture. Homespun Occasions' workshops encompass dances from more than 60 countries and regions around the world including the US, Latin America, Africa, Quebec, Scandinavia, Ireland, France, Turkey, China, Polynesia and Russia. These dance and music workshops can also be integrated with history and geography units.
Peter Davis, Paul Rosenberg and George Wilson have been leading elementary and high school daytime workshops and residencies in traditional community dance and music, and playing for family and community dance evenings since 1994. Their repertoire consists primarily of contra, square and international folk dances accompanied by lively reels, jigs, polkas and waltzes. Their music and dances transform even the most adamant, grimacing youngsters declaring "I will never dance" into smiling dance-lovers asking, "When is the next dance?"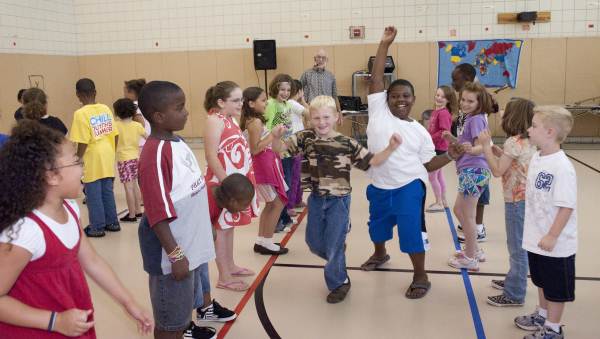 "Homespun taught us dances that have been a part of our American culture for generations. Students learned a little about what life was like in the pre-electronic days when our ancestors entertained themselves and others by singing, making and playing instruments and gathering together to dance with their community."
Kate Kloss, Principal,
Elsmere Elementary School, Delmar, NY
Although they have worked as a trio since 1994, Peter and George have each been arts educators since the mid-1970s. All three are multi-instrumentalists. Instrumentation includes fiddle, banjo, clarinet, pennywhistle, recorder, piano, guitar and mandolin. Together they have performed and taught in over 500 schools around the Northeastern United States.
Click Here for Information About Colonial American Dance Programs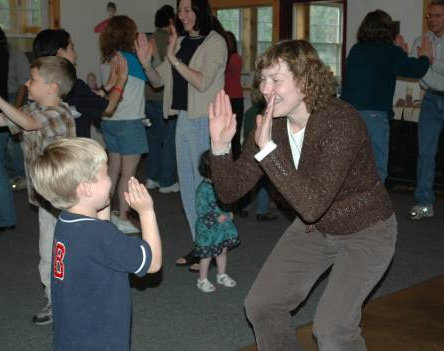 Family Dance Evening
One of our most popular offerings, the Family Dance, is a school-wide community celebration that involves everyone. Students, parents, siblings, teachers and administrators spend an evening dancing in time-honored traditions from around the world. If the evening is presented as the culminating activity after a school residency, students will be able to help teach their parents the dances they learned during the day.
Parents are encouraged to get up and participate, and the high-spirited, toe-tapping music by Peter Davis and George Wilson make it impossible to sit on the sidelines! All dances are taught by "dancing master" Paul Rosenberg.
"Watching families dance and have fun together, the same way they did many years ago, is both heartwarming and reassuring. As principal, I'm grateful my students get to experience the Homespun Family Dance."
Peter J. Brabant, Principal,
Altamont, NY Elementary School
Your family dance evening does not need to have a theme, but there are a few themes that work really well and are very popular. Click the buttons below to read more: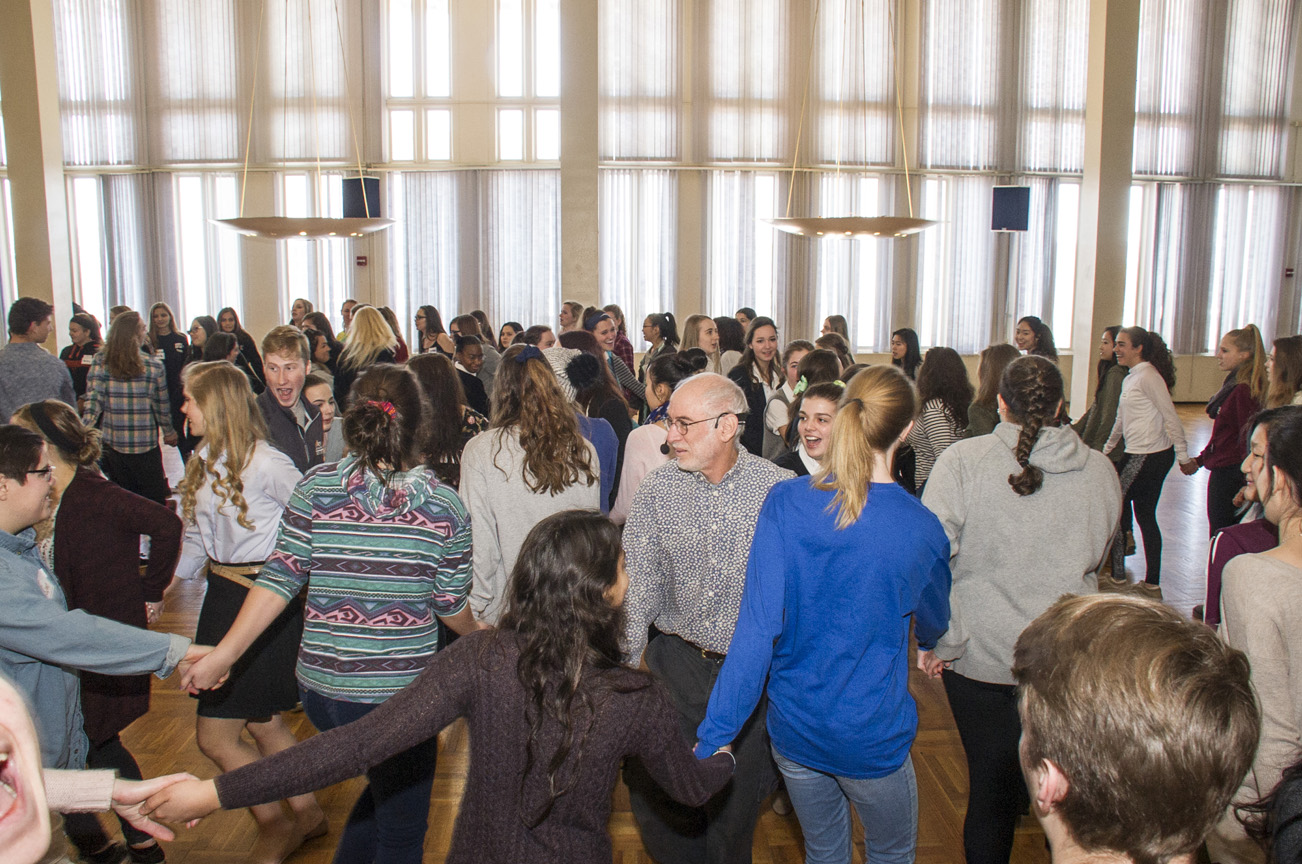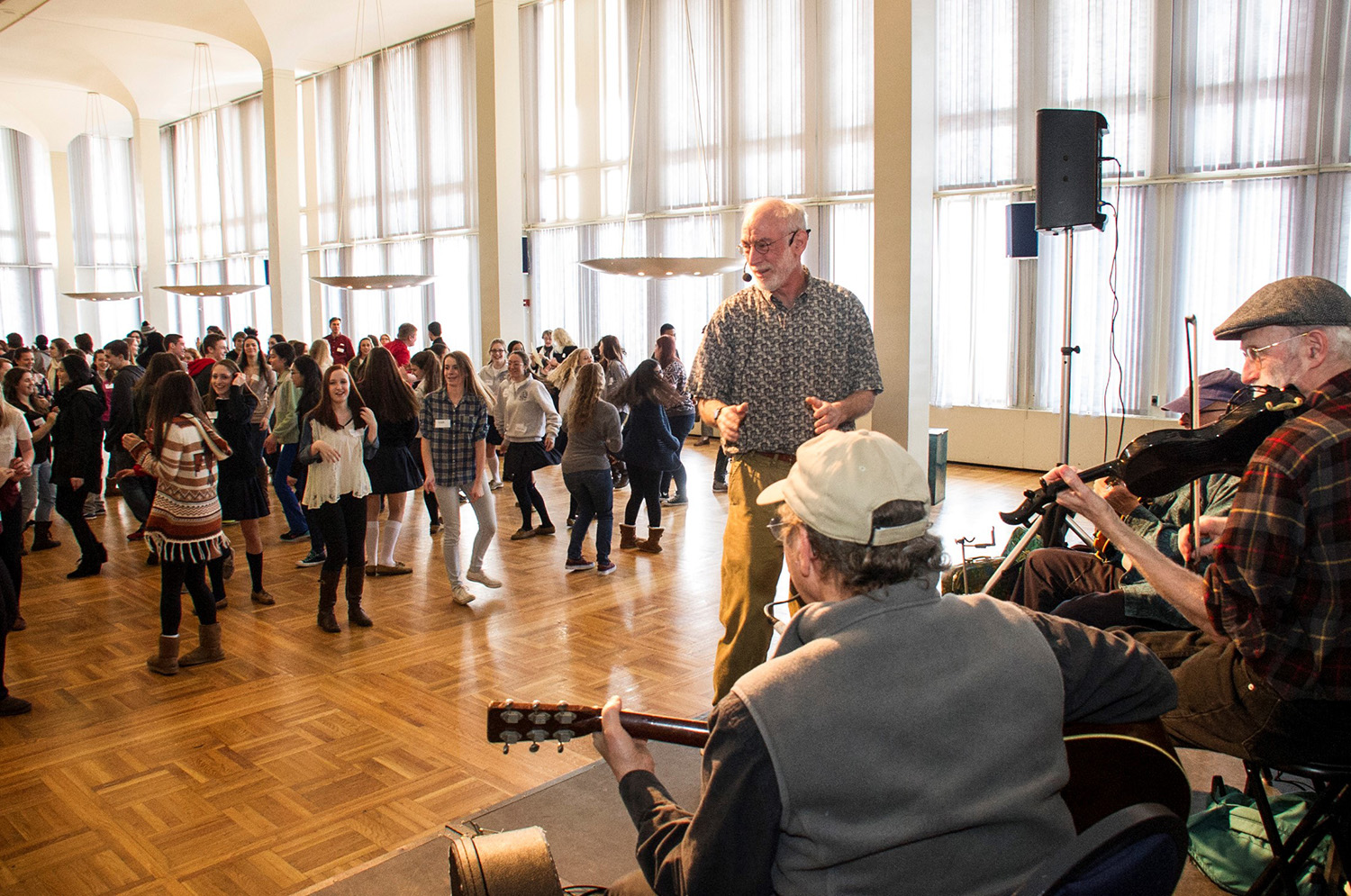 Middle & High School Programs
TRADITIONAL  DANCE AND MUSIC OF QUEBEC AND FRANCE FOR FRENCH LANGUAGE STUDENTS
TRADITIONAL DANCE OF LATIN AMERICA AND SPAIN FOR SPANISH LANGUAGE STUDENTS
TRADITIONAL DANCE OF GERMANY, ITALY, RUSSIA AND OTHER PARTS OF THE WORLD FOR OTHER LANGUAGE STUDENTS
Square dancing originated in France!  When settlers from France and western Europe came to the new world, they brought their quadrilles (square dance formation), their fiddles and their dances.  The cultural heritage of Francophone America is brought to life in this dynamic participatory workshop.  Accompanied by the energetic Quebecois fiddling of George Wilson and the pulsating rhythmic piano and guitar of Peter Davis, Paul Rosenberg leads high school French students through a series of lively dances as he points out the origin of such phrases as "do-si-do" (which was originally "dos à dos" – back-to-back).  Dances are in square, circle, and contra formations.  This multidisciplinary workshop encompasses language, history, geography, physical education and, of course, music!
In Latin America, some dances were brought over by Spanish colonists, and others are ancient dances of native peoples who were influenced by Spanish culture. Many of these dances tend to be very energetic and lots of fun!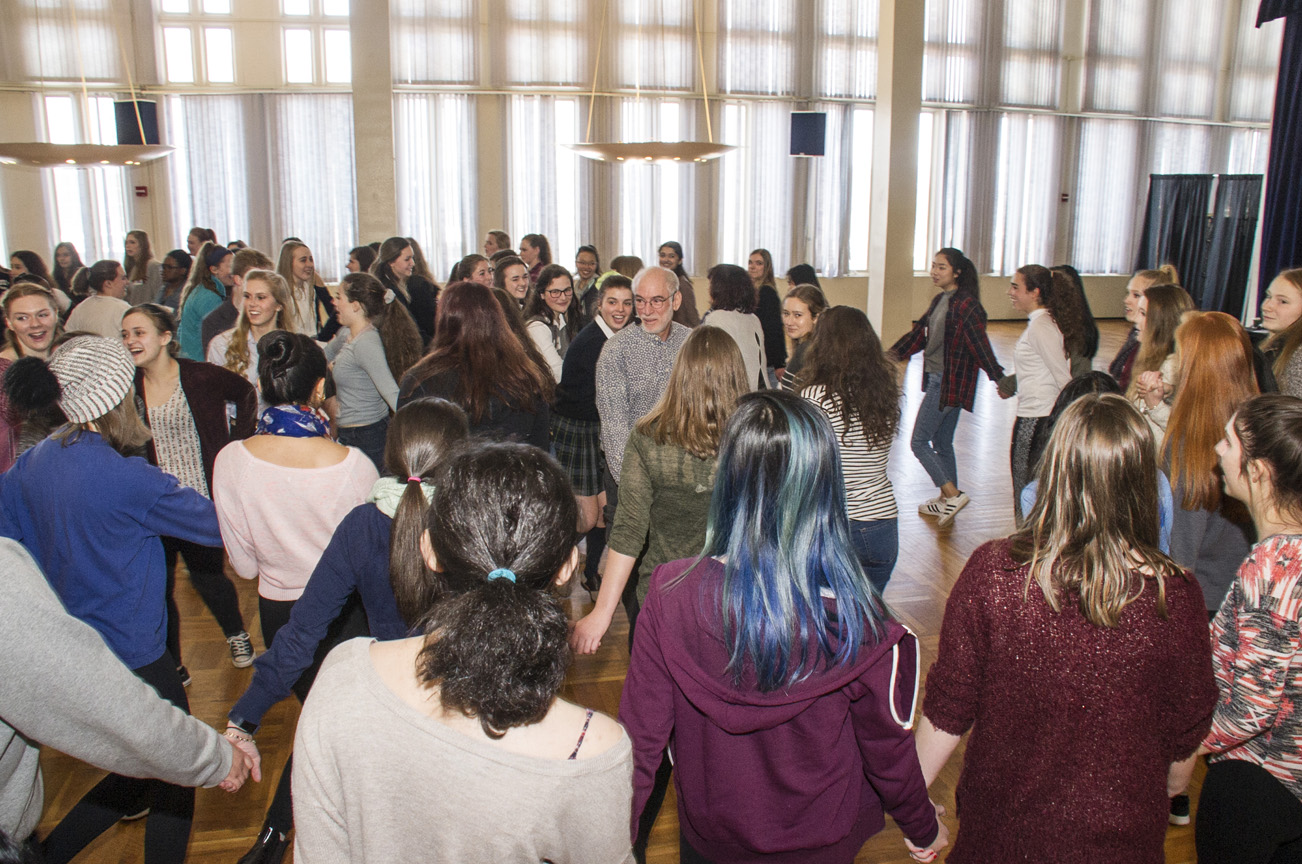 "The students were impressed by the group's ability to make something from the past become so vibrant and alive. I even heard one group of students say 'We should get them to play at our prom.'"
Pat Sacca, French teacher,
Columbia High School, East Greenbush, NY
We also teach dances from Germany, Italy, Russia and more than thirty other countries around the world.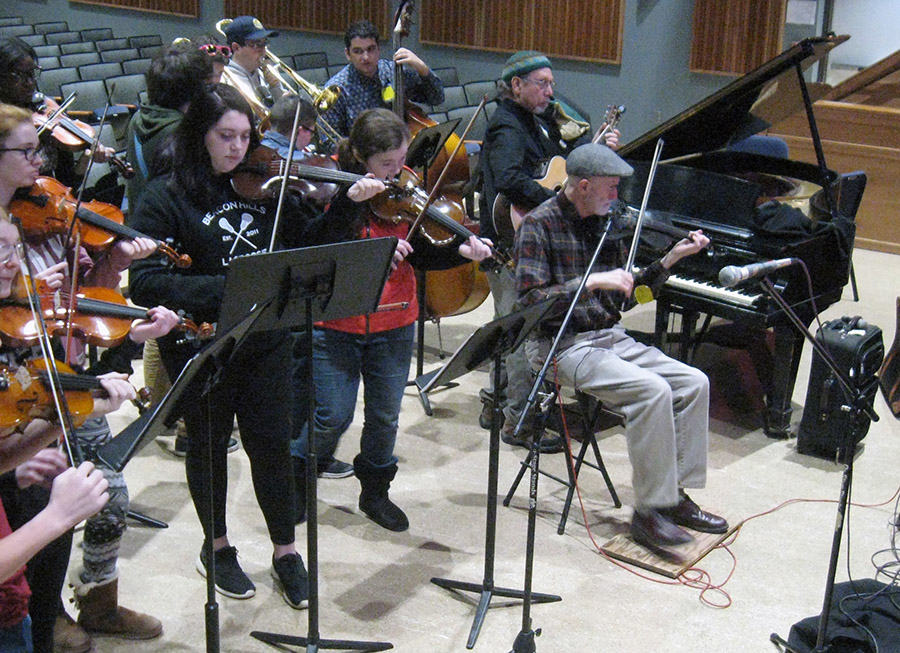 Fiddle for Orchestra
Students Master fiddler George Wilson has developed a program for working with musicians in school orchestra programs. Students will be introduced to and instructed in the nuances of traditional fiddle styles.
George has an extensive background playing tunes from Quebec (as well as Ireland, Scotland, Cape Breton/Nova Scotia, Appalachia, Scandinavia and the Shetland Islands). These traditional tunes include reels, jigs, hornpipes, schottisches, marches, polkas and waltzes.
During instruction, George will focus on the rhythms and accents that give this traditional music its distinct feel. Sheet music for melody and harmony/accompaniment will be provided; George will also employ the more traditional method of teaching tunes by ear. Students will learn melody, harmony and accompaniment for each tune. The details of bowing, ornamentation, rhythm, and accents idiomatic to a style or tune will then be added.
These workshops, rehearsals and sessions can be integrated with history and geography units as well as being aligned with the New York State Learning Standards in the areas of multicultural and traditional music, improvisation and playing solo or in an ensemble.